Policy
For Q-Park, Corporate Social Responsibility (CSR) includes ethical, social and environmental aspects in the decisions we make, and the willingness to give accountability for the consequences of our own decisions and activities. Q-Park sees openness about the impact of its own activities on society and the environment as a means to raise awareness of CSR and as a step on the road to improving sustainability performance of every Q-Park country organisation, of Q-Park as a whole, of companies within our chain, of our customers, and of the society in which we participate. Complying with legislation and prevailing standards is a minimum requirement. Social responsibility involves exactly that which the organisation does of its own volition.
Profit, People, Planet
Through its CSR policy, Q-Park endeavours to achieve a balance between the three Ps of the Triple P principle: the societal ('People'), environmental ('Planet') and economical ('Profit') consequences of its activities in the short and long-term. Here we distinguish between factors that Q-Park decides for itself, such as our own operating activities in the parking facilities we own or have in long-lease, and the factors on which Q-Park can only exercise its influence, such as parking policy in parking facilities owned by third parties and our visitors' mobility habits.
Policy choices
The CSR policy forms part of the long-term business plan. The policy choices are based on our own quality promise and the Quintessence philosophy. These are in line with developments in the European economy and the parking market, and with the European Union Sustainable Development Strategy (EU SDS).
Stakeholders
Stakeholders' opinions and expectations are essential input to Q-Park to evaluate and improve the quality of service and operating activities. This is why we continually consult our employees, country management teams, partners and the like, and involve them in our activities.
Furthermore, we look at each specific project and depending on the topic, expectations and the desired or required actions, we identify with which stakeholders it is relevant to enter into dialogue. The communication with these stakeholders is also a good way to keep abreast of trends and developments, to share knowledge and experience, to build confidence and to prevent or resolve problems.
We answer legitimate questions and accept our accountability though our annual CSR report. In this we follow the guidelines given in the Global Reporting Initiative (GRI) and the Transparency Benchmark (TB) of the Dutch Ministry of Economic Affairs. On invitation from a number of shareholders, Q-Park has been participating in the Global Real Estate Sustainability Benchmark (GRESB) for investment property since 2011.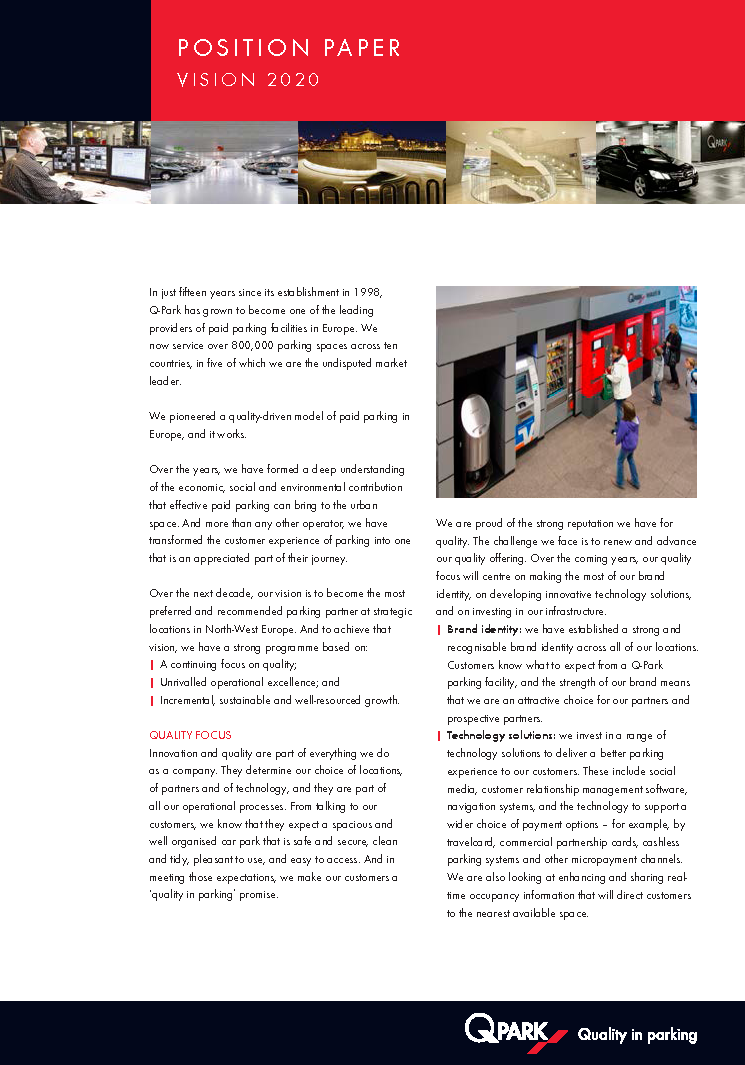 Position Papers
In order to strengthen our dialogue with stakeholders we have developed Position Papers on various topics; About Q-Park, Vision 2020, CSR, Q-Park Control Room, Q-Park Awards, Q-Park Key Figures. These concise documents provide good insight into what is important to know about Q-Park and what Q-Park considers to be important. The Vision 2020 and CSR position papers in particular offer our stakeholders transparency about how our activities are future-focused.
Ambitions
Q-Park selects ambitions that fit in with our own strategy and that are applicable throughout the organisation. By defining specific goals, critical success factors and performance indicators (PI) we ensure that our performance can be compared from one year to the next. Only in this way can we take specific action where necessary.
Q-Park distinguishes between performance for which we have considerable or less substantial improvement ambitions, performance on which we report in order to promote transparency, and performance that we evaluate based on new insights. In the latter case, the PI has not yet been developed or we expect that the PI will change or need to be adapted.
In the Quintessence table the level of ambition is indicated, per PI, by plus signs:
Three plus signs indicate a major improvement ambition.
Two plus signs indicate a reasonable improvement ambition.
One plus sign indicates that we report to promote transparency.
Policy adjustments
In 2013, Q-Park adjusted the remuneration policy for country directors and executive directors. Until now, bonuses depended mainly on financial goals and shareholder value. Their appraisal is now based on a Balanced Scorecard to which we have added CSR performance indicators, counting for 20%. With this we want to emphasise the fact that Q-Park values sustainable results highly and ensure that sustainability risks receive sufficient attention. Important criteria for determining the 20% CSR performance:
Timing: timely delivery of CSR and kWh workbooks.
Complete: all data fields are completed, with explanations where necessary.
Verifiable: all data provided can be substantiated.
Ambition level: all PIs with a defined level of ambition are more heavily weighted.
The data collection of our non-financial performance continues to improve now that the new reporting system has been implemented in all countries. This also means that some figures had to be restated, because previous data was inaccurate, such as the kWh consumption in France. The protocol for data collection has been tightened.
We have restated our Quintessence targets for 2017, bringing these in line with the new remuneration policy; from now on, the ++ and +++ PIs are expressed in percentages rather than in absolute numbers. The principles and components of the executive directors' remuneration is explained in the Annual report 2013, note 23.
A materiality analysis is performed once every two to three years to optimise the policy. The topics considered most relevant to our internal and external stakeholders are included in the policy. For these important aspects we will gather data, report and where applicable we will define objectives. In 2014 we will conduct an extensive materiality analysis, this time, based on the G4 guidelines.
As a result, the aspects 'good employer', 'anti-corruption' and 'customer data privacy' will be more firmly integrated in the policy in 2014.