Trends
Q-Park's CSR policy ties in with the European Sustainable Development Strategy. It responds to economic conditions in Europe, to urban developments that affect mobility and to societal trends that are important to the parking and real estate sector.
Economic performance
On the one hand, prospects for the parking market are favourable. The population is still growing and urbanisation continues. In the countries where we are active, the number of cars is still increasing. Research1 shows that on average cars are parked somewhere for 23 hours per day. This creates opportunities for Q-Park's continued growth.
At the same time, the recession is making its presence felt. Consumer confidence throughout Europe is still lagging behind. Unemployment is high and has an adverse effect on the population's purchasing power and willingness to buy. Decreasing business activity also results in vacant office buildings. The number of parking season tickets at existing offices is decreasing; at new office developments, full occupation is less often a matter of course.
Even though the economy is showing some signs of recovery, a slight rise in unemployment is expected in 2014. The highest unemployment levels are reported from Ireland (12½%, but declining) and France (11%, stable). Germany (5%) and Norway (3½%) report the lowest unemployment2.
Until half way through 2013, retail turnover declined slightly (by about 1%), but by the end of the year was more or less back at the level of 2012, Eurostat reports. The Netherlands and Belgium still remain substantially behind the European average (-4%). Great Britain, France and Sweden are doing better than the average (+2%).
Numbers of visitors in shopping areas are stabilising; people keep coming, albeit with a different purpose. Now that internet sales are gaining in volume, shopping is increasingly becoming fun shopping. Multifunctional cities with a pleasant environment and a wide range of amenities, shops and culture will continue to attract the general public in large numbers. The difference with cities that do not have this offering is becoming greater.
Local authority finances are under pressure. Parking revenues and fines are a significant source of income everywhere in European cities. This increases the willingness of municipalities to work together with serious partners in search of a balanced policy.
Shawn Conrad, CAE Executive Director International Parking Institute
"Contrary to common misperceptions, parking is vital to sustainability. Well-planned parking can increase use of mass transportation, reduce the number of people commuting, and encourage alternative travel methods such as bicycling."
Relevance to society
Ageing population
By 2060, the median age of the European population is projected to be more than seven years higher than today and the number of people aged 65 or more is expected to represent 30% of the population. Presently this is only 17%3. A society with a greater proportion of older people will have to devote more public resources to pension payments, healthcare and nursing. Ageing will therefore also put pressure on funds available for public transport and creating and maintaining transport infrastructure.
Urbanisation
In 2050, 70% of the world's population will live in cities, compared to 50% today4. In Western Europe where Q-Park is active, this trend will also continue, thus increasing pressure on existing facilities and infrastructure. As a consequence, municipal authorities are being challenged to come up with innovative, flexible and affordable solutions for more efficient infrastructure and urban development. In the next forty years, researchers expect urban areas worldwide to grow as a whole by an area equivalent to that of the London metropolitan area.
Nevertheless, developing and providing good infrastructure is only one part of the solution. Even now, cities use every inch of public space. Parking spaces belonging to office blocks are becoming accessible to the public; outside peak hours these parking facilities are open to residents with parking permits, as is already possible in Amsterdam. So-called smart cities are emerging, where information technology plays a key role in the city's quality of life. Smart parking solutions, smart signage, and smart public lighting are just a few examples. Parking information systems with dashboards are on their way, and perhaps we will see robotised or automated parking in the not too distant future.
Conclusions from the 2013 European Parking Association (EPA) conference:
Uncontrolled parking policy can have a negative impact on urban development and can lead to inner city areas becoming gridlocked.
Dynamic parking tariffs can contribute to the accessibility of cities.
Digital and mobile payment methods will change the parking market the coming years. This will contribute to the willingness to pay for parking, which in turn will reduce the number of parking offences, thus changing enforcement.
Parking companies should pay more attention to customer service and realise that they are a service provider.
Urban mobility policy can only be successful if it includes parking policy.
Car ownership and car usage
The number of new car sales has decreased sharply in recent years and showed slight growth in 20135. This trend is directly linked to the economic crisis of the last five years. In addition, a new social trend has a role to play. Car sharing is gaining popularity, especially among younger people. Car ownership is clearly declining in this group. The largest decrease can be observed among young adults under 26. Young people live in cities and have less need for a car. There are sufficient good alternatives such as public transport or bicycling. Many young people see owning a car as less of a status symbol than their parents do.
Shawn Conrad, CAE Executive Director International Parking Institute
"Today parking is about so much more than storing cars. It's central to the creation of livable, walkable communities. It's about cars, bikes, mass transit, mobility and connecting people to places."
Public-Private Partnerships
Cooperation between government bodies and private parties is a prerequisite to keep inner-city areas accessible through well thought-out parking policy. Research shows that parking policy drives mobility habits.
Innovation
Digitalisation continues
Digital parking control and payment for on-street parking spaces based on automatic number plate registration are becoming increasingly common. People parking start a parking transaction by entering their number plate at a payment machine or by using their smartphone. The advantage for customers is the ease of paying in arrears for the actual parking time, just as in purpose-built parking facilities. This reduces the differences between paying for on-street parking and parking in a facility. Digitalisation of parking based on number plate meets some resistance because of privacy sensitivity: it is possible to track and register parking movements. In a car park, customers have more freedom to choose whether they will identify themselves.
With the continued development of real-time data, those travelling have increasing volumes of information at their disposal, for instance from their in-car navigation systems. This includes the actual availability of parking spaces, parking at a P+R with supplementary public transport, and booking parking spaces in advance.
The number of electric vehicles is rising steadily, along with the demand for charging stations in public parking facilities.
New payment systems
The shift from cash to non-cash payment continues. Queues at payment machines are a thing of the past because more and more people pay automatically by means of identification at the barrier. This was already possible using a credit card but now it is also feasible with a debit card. Paying for the actual time parked is becoming the standard.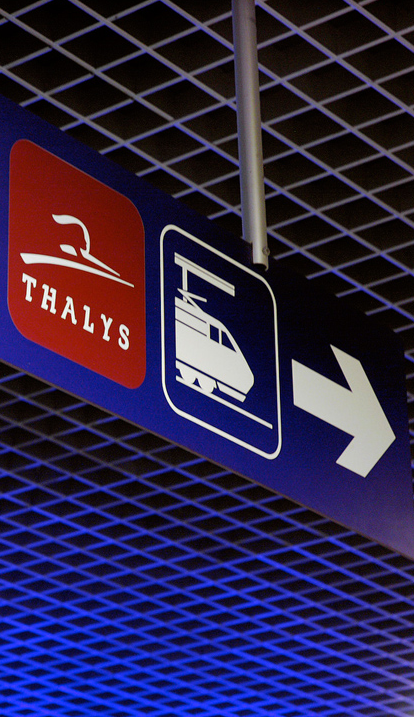 Sustainable parking, the most influential trends: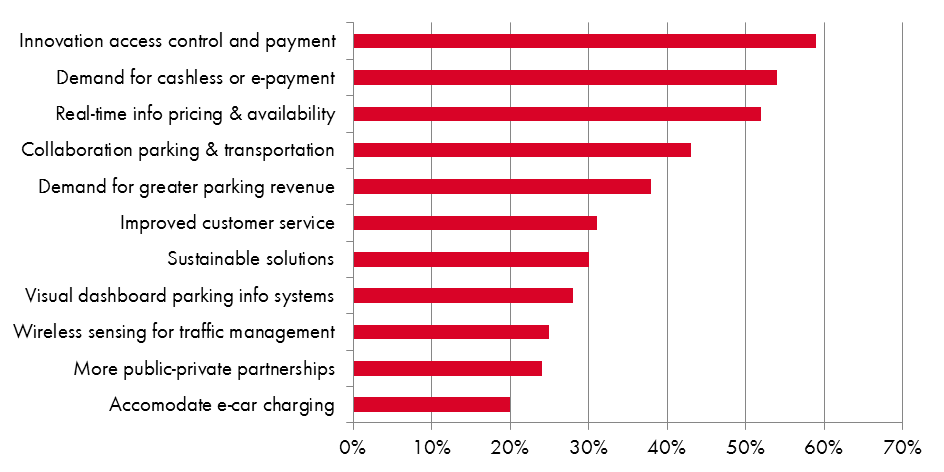 Investment property
Demand for sustainable solutions for the built environment will increase as cities begin to shape their own sustainability policies. Sustainability is playing an increasingly important role in policy for investors and other financial institutions.
The Global Real Estate Sustainability Benchmark (GRESB) provides insight into sustainability trends in the real estate sector. In 2013, 543 real estate companies and property funds, accounting for some 49,000 buildings around the world, participated in the benchmark. Q-Park also participates, even though our property category cannot be fully compared to commercial and industrial construction. Some notable facts6:
4.8% decrease in energy consumption between 2011 and 2012. (0.7% in Europe).
2.5% decrease in greenhouse gas emissions. (0.2% in Europe).
1.2% decrease in water use.
European environmental policy
The European Union Sustainable Development Strategy (EU SDS) consists to a large extent of climate change mitigation – presently the most urgent environmental problem – and the negative consequences of this to society and on the environment. There is still much to be done, particularly regarding the reduction of carbon dioxide and particulate matter in urban areas. Making transport more sustainable is crucial here because transport is responsible for almost 20% of all greenhouse gas (GHG) emissions and for slightly more than a quarter (27.9%) of all CO2emissions in the EU-277.
Source: The high cost of free parking, Donald Shoup, 1997

Source: Statistics, Eurostat, 2013

Source: Active ageing and solidarity between generations, Eurostat, 2012

Source: World Economic Forum, 2013

Source: Mobility in Figures, 2013-2014

Source: GRESB Report, 2013

Source: Sustainable development strategy in the EU, Eurostat, 2013