CSR vision
Paid parking for sustainable urban mobility
Q-Park stands for 'Quality in parking'. This fundamental choice for quality also forms the basis for the way we approach our corporate social responsibility. Our solution for the threats mobility poses to the quality of urban areas is expressed in 'Quintessence – the logic behind paid parking' which we published for the first time in 2007.
Cities are faced with the joint challenges of mobility, the economy and the environment. They have to contend with congestion, traffic cruising for a place to park, reduced accessibility, air pollution, and unattractive and unsafe streets and squares full of parked cars.
Q-Park continues to propagate the vision that regulated parking, preferably in clean and safe facilities, offers an answer to the five greatest urban challenges: mobility, facility, society, economy and environment.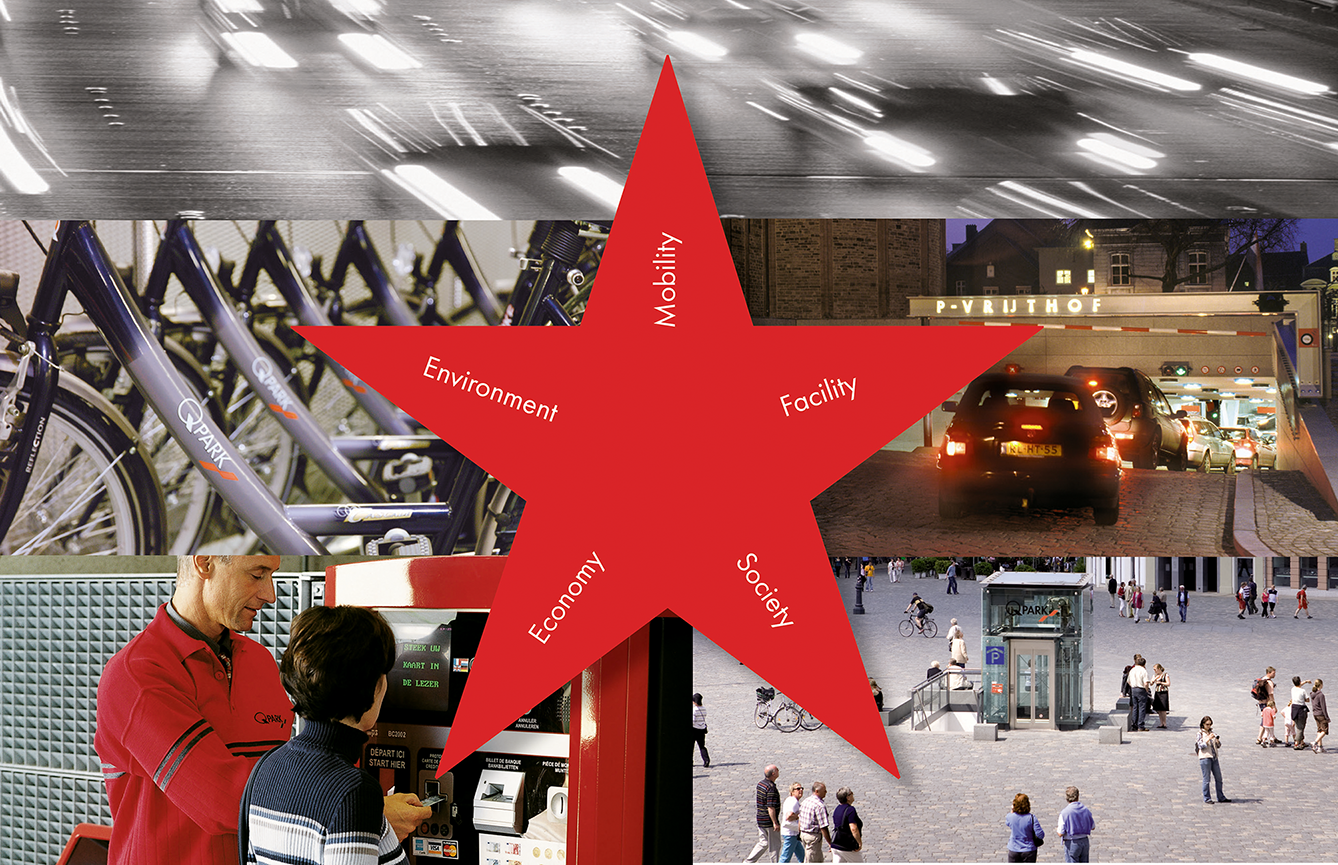 Responsible mobility
Cities are the engine of the European economy. Mobility problems are like sand in that engine. Efficient parking is an important part of the mobility chain and contributes to a pleasant city environment. Q-Park is committed to a coherent mobility policy in which economic growth, quality of life, sustainable development, and environmental protection go hand in hand.
Regulated parking helps to manage the growing demand for parking spaces more effectively, transfers the cost of parking to the user, and limits the use of cars. Parking tariffs act as leverage. Guiding the motorist directly to a vacant parking space reduces traffic cruising for a place to park. Additionally, linking parking facilities with public transport, for instance by creating sufficient parking spaces for those who continue their journey by public transport and combining paid parking and public transport season tickets, also offers opportunities.
Attractive facility
If parking facilities are exceptionally welcoming, visitors to a city, shopping centre, station or hospital will immediately get a good impression. The art is to make them functional and attractive. Q-Park is committed to making parking facilities which are easy to find and accessible, available and easy to use. They should also be clean and safe, and should fit in with their surroundings.
There is no such thing as free parking
The user or the local authority pays for the facilities which are essential to an accessible and economically viable city.
Building, maintaining and operating parking facilities costs money, just as regulating parking and ensuring compliance. Q-Park believes that fair parking tariffs should include the cost of traffic infrastructure, in other words: the access, construction and operating costs, as well as the cost of the location and use of the public space.
Car usage mainly benefits the individual. From a societal point of view, paid parking is the best option. It is only fair that those who benefit from parking should pay, and thereby finance the parking facilities.
The ideal parking tariff
Ideal parking tariffs steer motorists' behaviour. They encourage them to look for cheaper alternatives, such as another means of transport (public transport or bicycle) or to park away from the centre. A parking tariff set by market forces helps to distribute parking spaces efficiently. There is therefore always sufficient space for those who want to pay to park in the inner city.
Economic efficiency
Almost 85% of the Gross Domestic Product (GDP) is generated in urban areas1. Functional parking facilities in urban areas are mobility machines. If they function efficiently, preferably linked to public transport, they enable traffic flow and ensure accessibility, and that is crucial for economic growth.
Working together for a sustainable mobility policy
We believe it is our responsibility to strive towards the economic and social principle that the user pays. Collaboration with local authorities is a prerequisite for this sustainable mobility policy. One of the instruments Q-Park uses for this is Public-Private Partnerships. The government facilitates the venture capital, private parties take the risk to invest in sustainable parking solutions with a societal return. Governments retain resources for other societal needs.
Benefits to society
Parking facilities are more expensive but last longer. In return for the higher costs of construction, operation and maintenance compared to on-street and off-street parking, they make a considerable contribution to pedestrian-friendly and high-quality urban public spaces.
The immediate benefits to society include:
Less land is required
Attractive public space
Less traffic cruising
Best possible economic use of the area
Sufficient availability of parking spaces by setting appropriate parking tariffs.
Welfare
A safe urban environment encourages people to move around on foot, by bicycle or by public transport, which has a positive influence on their health and wellbeing. Q-Park is not in favour of encouraging car usage, but is in favour of good parking facilities. These function as nodes. Squares and streets change from traffic areas to places where people can move freely, safely and socially. In addition, a clean and safe parking facility encourages responsible behaviour, not only in the facility but also in the surrounding area.
Environment
Paid parking helps reduce car usage in cities, thus also reducing CO2 emissions and fossil fuel consumption. To encourage this, dynamic parking tariffs – higher during peak times – are very effective. Good traffic flow, for instance with Parking Route Information Systems (PRIS), has a positive effect on air quality.
At Q-Park, we endeavour to improve the environmental performance of our own parking facilities, fleet, and offices and to influence the environmental performance of our major business partners in the value chain.

Source: European Parliament legislative resolution of 21.11.2013