Environment
Objective
Improve the environmental performance of our own parking facilities, fleet, and offices, and influence the environmental performance of our major business contacts in the value chain.
What we want to achieve
In 2009 we launched an Energy Saving programme to raise awareness and take measures to reduce our energy consumption and CO2 footprint.
As part of this programme, the terms of reference for lighting installations were revised downwards in 2012. This has been achieved without compromising the lighting quality, which is very important to Q-Park. Lighting installations in parking facilities must produce an average lighting level of 85 lux with a uniformity of 0.5 at floor level at an energy consumption of between 1.3 Watt and 1.9 Watt per m². With this, we achieve a balance between a good light level and an energy-efficient installation. This optimises energy consumption from lighting systems in newly built and renovated parking facilities. The economic criterion is that any investments in new technologies, such as LEDs, are recouped in less than five years.
In addition to our own sustainability programmes, we also wanted to make a case for the development of the BREEAM In Use standard for car parks. Furthermore, we ask our business partners to share their CO2 performance with us.
93%

employees strive for better environmental performance in their own homes

BREEAM

In Use

complete

BPC

(Business Partner Code) expanded and validated
Energy Saving programme
Under the auspices of the Energy Saving programme we initiated a project to optimise existing lighting installations and control systems. This means we can reduce our energy consumption and CO2 footprint. The Corporate Real Estate & Facilities Management department supports the country organisations in their efforts to achieve the reduction targets to which they are committed. At a central level we analyse and assess market solutions related to light output, energy consumption and financial feasibility. We apply the following technical solutions:
Installing daylight and movement detectors or optimising these in combination with dimming lighting installations or switching them on and off.
Replacing conventional light sources with induction or retrofit LED products.
Replacing conventional light fittings with high frequency T8, T5 or LED products.
What we have accomplished in 2013
Lighting projects
We have optimised or installed daylight and/or movement detectors in 32 existing parking facilities.
In Germany, Belgium and France we are testing retrofit LED products in existing fittings in five parking facilities. The quality of retrofit LED products differs considerably. In conjunction with the specific characteristics of each parking facility, these have resulted in positive as well as negative experiences. In two projects we demonstrated that it is possible to realise a reduction in energy consumption, achieving good light levels and uniformity. However, the existing lighting plan was maintained when the retrofit LED products were installed. In two other projects it transpired that due to the reduced diffusion of the retrofit LED tubes, insufficient uniformity was achieved. The useful life specified by the supplier was not achieved. In some cases, full replacement of the retrofit LED products was necessary within four months.
In 16 parking facilities in the Netherlands, Germany, Great Britain and Ireland, conventional fixtures have been replaced by high frequency T5 lighting installations.
In the Netherlands, LED lighting installations were fitted in two parking facilities in combination with dimming based on movement detectors in various zones. An analysis and evaluation of the results will follow.
Best practices
We collect product applications and 'best practices' from the Q-Park countries and have made a selection of the most preferred lighting solutions. Due to the rapid developments and to the emergence of feasible LED lighting, we revise the preferred lighting solutions annually.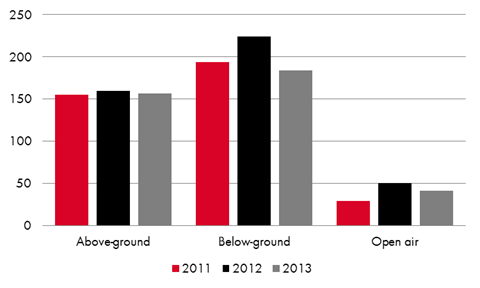 CO2 performance
In addition to energy saving measures for lighting, we also explore opportunities for optimising the operation of lifts and ventilation systems. This is another area in which we can reduce our energy consumption and CO2 footprint.
In 2013, we extended the Business Partner Code with the request to partners to share their CO2 footprint with us. We requested this from the top 10 business partners in each country. More than 60 partners complied with this request. The difference compared to 2012 is mainly attributable to not receiving feedback from the Dutch partners in time and the fact that instead of the country organisations, Q-Park NV appointed actual 'third parties' as partner.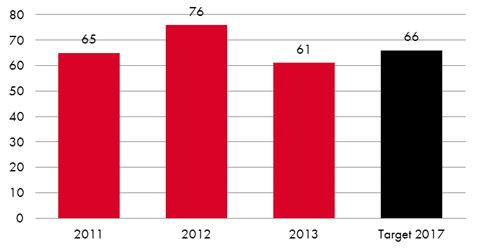 Following the introduction of video conferencing and the implementation of the changes to the organisational structure, fewer Q-Park employees travel, and those who do, travel less frequently. All this has resulted in considerably fewer business flights.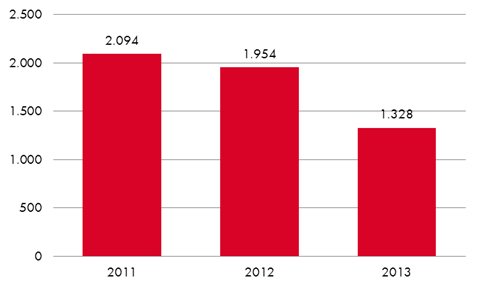 Raising awareness about energy consumption
As part of a training programme, an operational manual has been drawn up to raise awareness about energy consumption among employees. We actively encourage closing a parking level and (partially) switching off lighting if the utilisation of the parking facility permits this.
Centralised procurement of gas and electricity
We also examined how, in the context of our central procurement policy, we can purchase gas and electricity on a larger scale. We have therefore appointed an external energy management consultant. The ongoing energy contracts per country are being examined. In addition, we are pursuing an active procurement strategy for renegotiating or extending energy contracts. This will enable us to monitor developments in energy prices centrally and to take timely action when necessary.
Sustainable design
Q-Park has contributed to the realisation of the BREEAM In Use standard for car parks. This also demonstrates our promise of applying sustainable solutions in our parking facilities. With this, we have completed a key step towards achieving our target that in 2017 3 of our owned or long-leased parking facilities will have a BREEAM certificate.

The Dutch NEN 2443 standard is the standard we apply when designing parking facilities. A new version of that standard was issued in March 2013. For the third time in succession Q-Park made a contribution by providing a chairman and committee member for the Netherlands Standardisation Institute (NEN) committee. We also made a financial contribution.
As leading and trend-setting developer, owner and operator of parking facilities, in the context of CSR, Q-Park considers it important to contribute to establishing and maintaining such important documents.