Society
Objective
Improve customer and employee engagement and contribute to their health and safety.
What we want to achieve
Q-Park promotes the health and safety of customers and employees. The main ways in which we achieve this is by training our employees and equipping them for their work, and by creating a safe and healthy working environment. From customer research it transpires that of the many services we provide, the presence of toilets, an AED and jump leads the most are appreciated. That is why we certainly want to offer these services in our owned or long-leased facilities. We also offer our employees the opportunity to learn life-saving skills, so that they can help someone both at home and at work.
Every year we receive millions visitors in our parking facilities at all times of the day. Unfortunately, it is inevitable that our employees will encounter aggressive or inappropriate behaviour. We offer parking hosts a training course so they can learn to deal with such situations. In addition, as part of our traffic safety promotion, we work together with driving schools to help teach learner drivers how to manoeuvre in a car park.
Employees trained in conflict management

641

(2012: 454)

EPAs

Smart Parking (NL) and

Q-Park

Tongeren (BE)
Transparency Benchmark

45

and started

G4 Core
What we have accomplished in 2013
AED, toilets and jump leads
The realisation of our target to have publicly accessible AEDs in our parking facilities, leaves much to be desired. The pace at which these life-saving devices are being installed, is too slow.
We presume that the country organisations are afraid of vandalism or theft and are not familiar enough with the improved protocol for this performance indicator.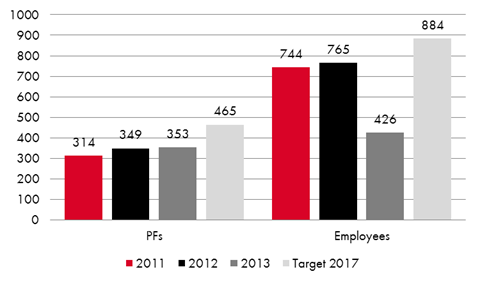 It also seems that the countries do not fully understand what we mean by publicly accessible. The AEDs should be located at a logical, secure and accessible place so they can be taken by trained volunteers or medical personnel when needed.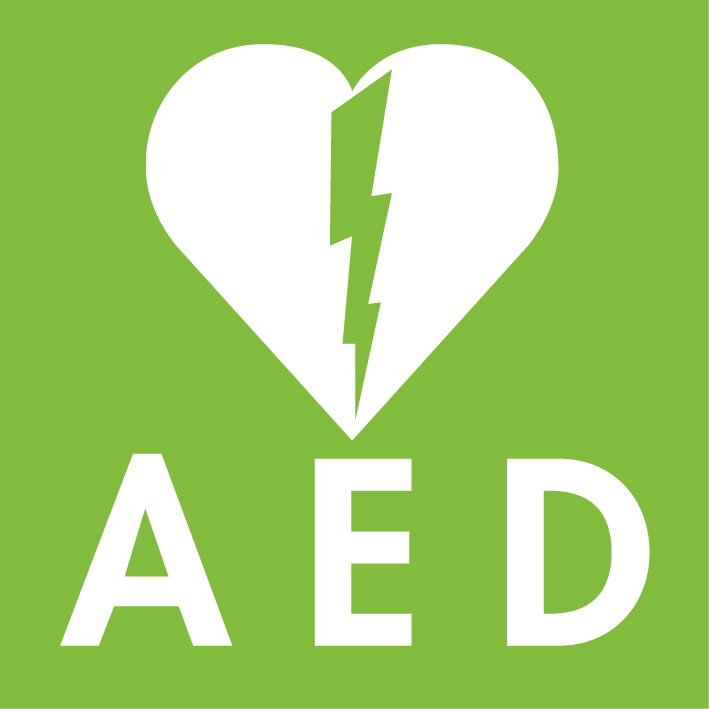 The number of toilet facilities and the directions to these is also lagging behind the target. In 2014 we will work on improving the instructions on these points to our operational companies because we see a number of creative and efficient opportunities.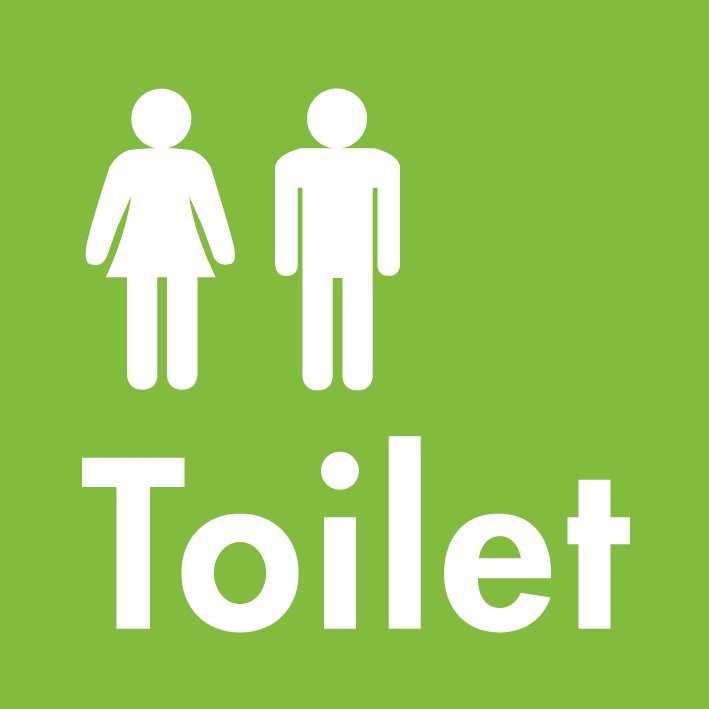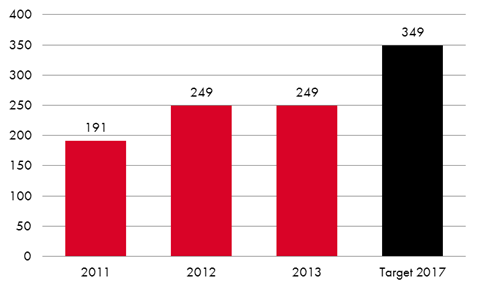 Employee training
The number of employees who attended a First Aid or CPR training course was significantly lower than in 2012. Our target is that one-third of employees will have completed such a course by 2017. Currently, this is only 16%. It is important to mention that the training course can be given every two years, which is probably one of the reasons for the lower numbers in 2013. The conflict management training course has been well-attended. If we continue this trend, then we will achieve our target that 20 to 25% of our employees has received this training.
Q-Park is aware of the less favourable reputation1 the real estate sector has, but we expected our Code of Ethics would sufficiently impress the importance of ethical behaviour upon employees. In practice, employees still sometimes fail to see that something is just not done, or they doubt about the proper course of action. To reduce that grey area and to raise awareness of fraud, we now also offer an anti-corruption training course. In 2013, 405 employees attended the course.
Collaboration with driving schools
The collaboration that Q-Park envisages with driving schools still deserves attention. We want to inform new drivers about mobility choices and have them learn how to park in a car park. Not all Q-Park countries are taking the same approach. We will be raising this issue in our regular meetings.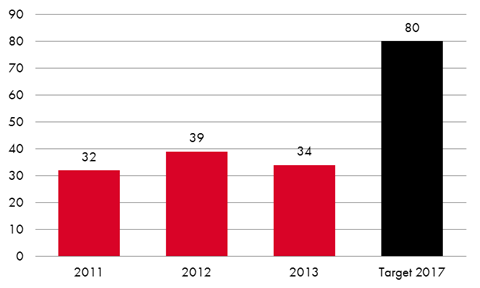 Transparency Benchmark
We have again risen in the Dutch Ministry of Economic Affairs Transparency Benchmark. We are now ranked 45.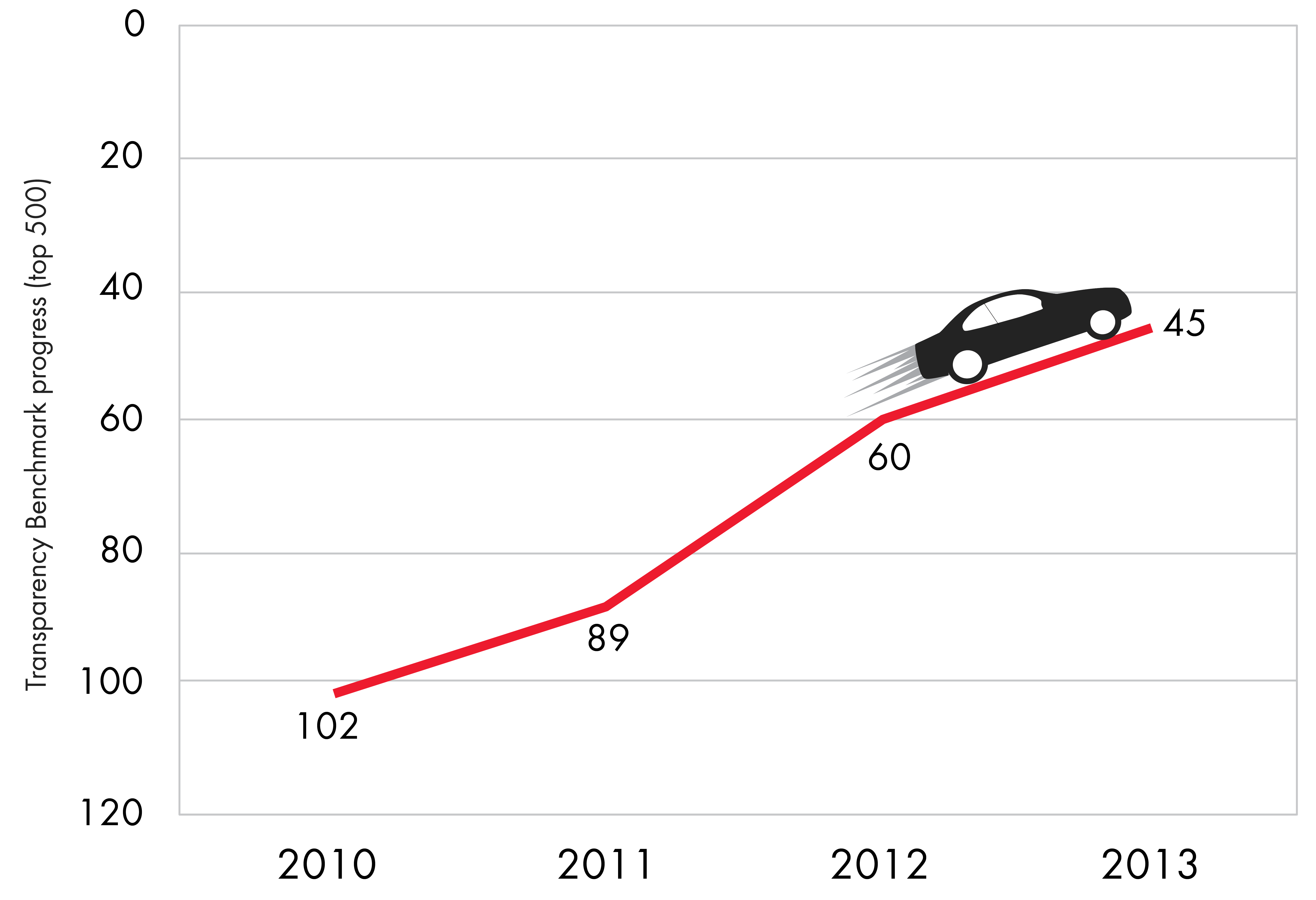 EPA Award Grote Markt Tongeren
Q-Park Belgium has won the European Parking Award in the 'Renovation' category with Q-Park Grote Markt in Tongeren. As motivation for granting the Award, the jury commended the fact that Q-Park renewed the entire facility under the apartment building, and even went far beyond the regulatory, structural changes. For example, a ramp has been added to the middle of the car park.
Furthermore, the parking facility has been given a quality finish; it has been painted from top to bottom, including the walls and ceilings, the floors have been coated, and there are new barriers and ticket machines as well as some more general adjustments inherent to the Q-Park house style.
For the safety of people parking, the car park's pedestrian entrances are only accessible via ticket readers. Extra attention has also been paid to the lighting.
EPA Award for 'Smart Parking'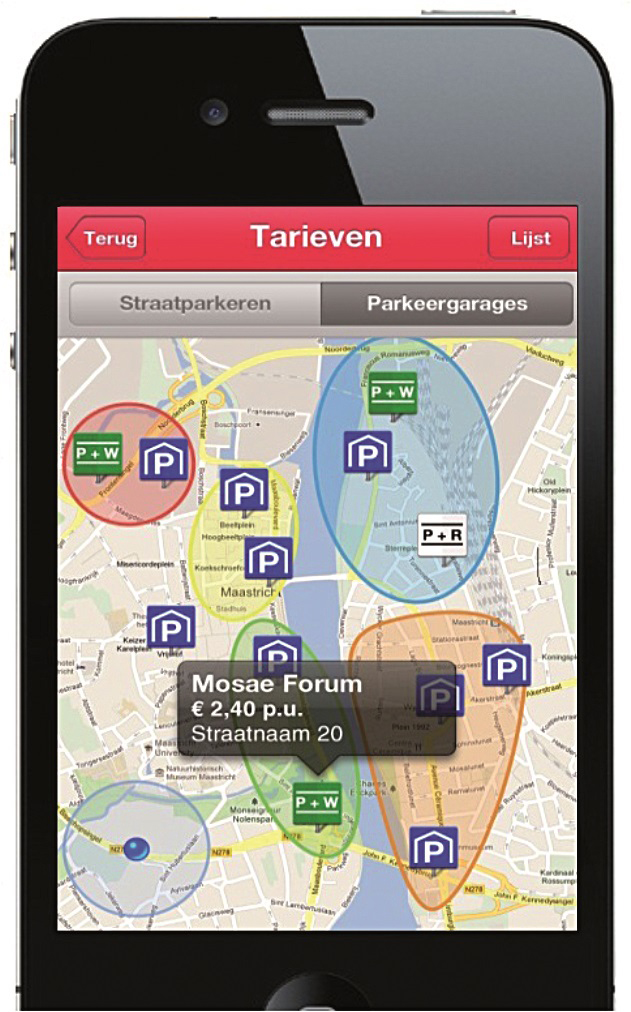 Q-Park Netherlands and Maastricht Bereikbaar (Making Maastricht accessible) have won a European Parking Award in the 'Innovation' category with their joint research project entitled 'Smart Parking'. The VU Amsterdam was responsible for setting up the research and for the analysis.
Visitors to Maastricht were assisted in finding a parking space using an app. The purpose was to examine which information can influence the parking behaviour of visitors to a city. If cars can be better distributed throughout the city, this promotes traffic flow and thus reduces the hinder from on-street parking.
Via the app, specific information was provided or withheld to observe the effects. This information concerned aspects such as the availability of a parking space, the distance to the final destination, and the parking tariff. "A real innovation, because real-time information about vacant parking spaces can be found quickly", according to the jury. "This enables people to drive directly to their destination, which is beneficial to the environment". Research into the effectiveness of this app shows that displaying this information in the car contributes to a better spread over the parking facilities.
Bribe Payers Index, Transparency International, 2011