report development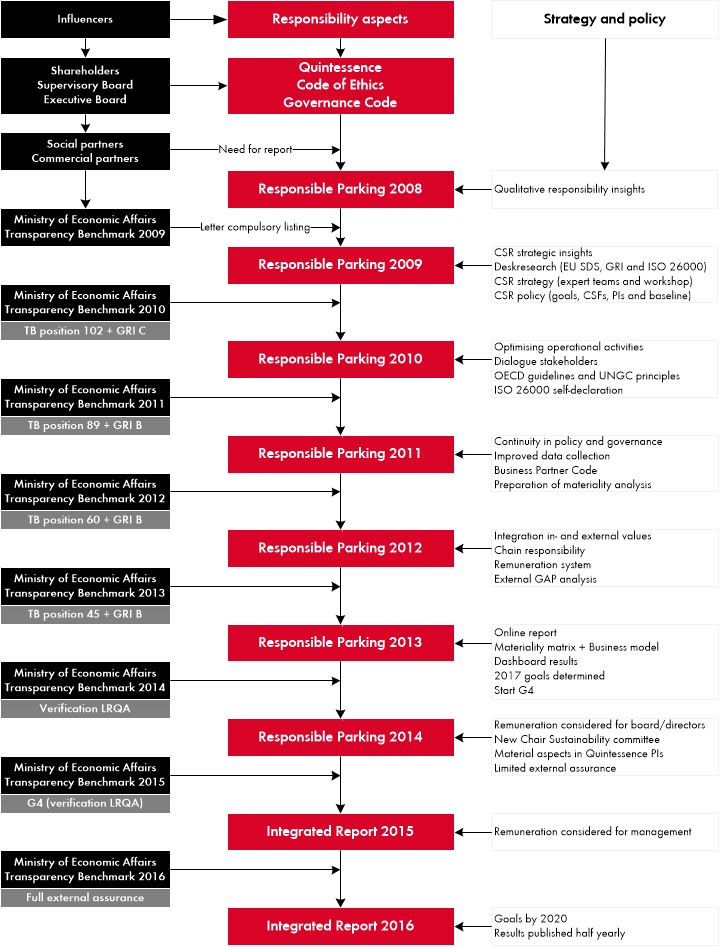 Q-Park takes the development of CSR reporting very seriously. We have set clear objectives for ourselves which we endeavour to achieve year after year. At the same time, we are faced with some choices which we would like to share here.
When to switch from GRI 3.1 to G4?
The decision to start reporting according to the newest G4 guidelines means quite a lot of extra work for Q-Park. We will have to establish a more extensive dialogue with stakeholders about what topics are relevant. This will result in a materiality matrix. We have asked ourselves whether we are ready for this and whether we can present a well-thought-out selection of topics to our stakeholders.
G4 can certainly help us improve our focus. This will generate greater understanding for our efforts and performance, both internally and externally. We have therefore decided to start the implementation process for the new G4 this year, so that our report next year will conform with these guidelines. In 2014 we will start expanding our dialogue with stakeholders. Furthermore, we want to refine the materiality matrix so that it will serve us well in the next few years.
External verification
External verification increases the confidence stakeholders have in our accountability, but it also entails extra cost. Furthermore, we must be certain that we have the correct documentation at our disposal. For this reason, we have first engaged LRQA to conduct a GAP analysis and we have discussed the results with various internal and external experts. The results were presented to the Executive board with the recommendation to apply for external assurance for the 2013 report. This recommendation is also linked to our explicit ambition to publish an integrated Annual report for the 2015 financial year. In the meantime, we have developed an action plan to properly manage the external assurance process and this will be implemented from this financial year.
CSR results in remuneration policy
Q-Park takes the CSR policy very seriously. Nevertheless, we have not achieved all our targets, despite these being clearly expressed. It is not always clear whether we realise our plans, or even do more than that. Neither was it clear whom we could call to account or even compliment. To gain a better understanding, we developed a remuneration system. In this, we make a link to the primary targets and how the country organisations or business units can make their contribution.
In order to make proper comparisons, we have opted to show the results as percentages rather than absolute numbers. Each performance indicator has been given a certain weight. The remuneration system is configured so that it is possible to achieve a 100% score.
The remuneration system has been approved by the Executive board and Supervisory board. It was introduced in good time, well before the data collection for this report needed to be complete.
Performance dashboard
In 2013 we provided the country organisations with a detailed dashboard. The Managing Director identified the performance indicators they wanted to see throughout the year. We also created a group dashboard containing the most requested indicators. This enables the countries to compare results with each other and so better target their own CSR activities.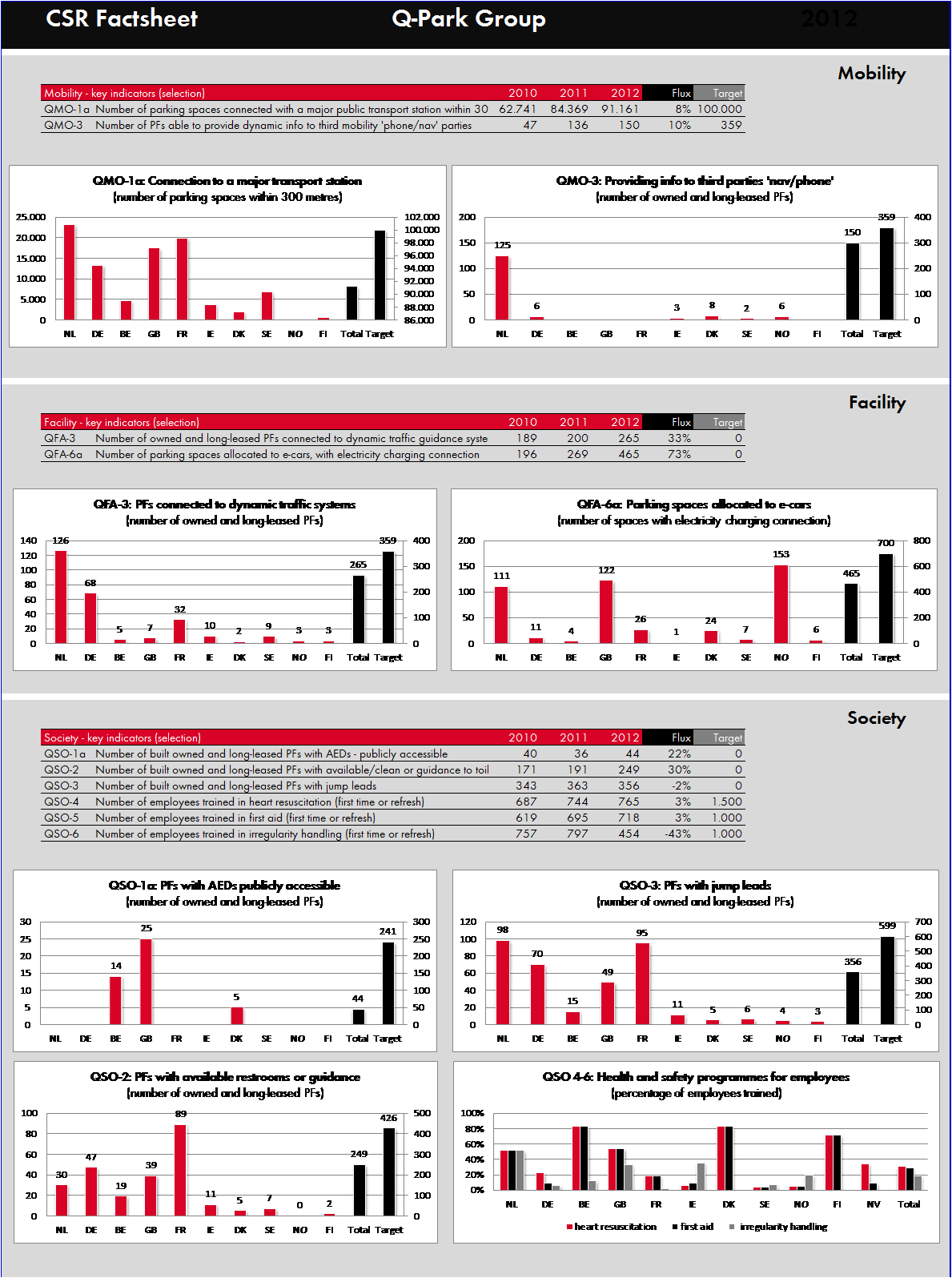 Integrated report for 2015
We are planning to publish an integrated Annual report for the 2015 financial year. This is ambitious, certainly in a period of economic downturn when CSR does not always have top priority. Besides that, we are occupied with the internal split of our organisation into Opco and Propco. Our founding father and CEO Ward Vleugels, who has the CSR dossier in his portfolio, will be retiring in 2014. Nevertheless, integrating the financial Annual report and the CSR report is logical. Drawing up an integrated report will be more efficient and more effective. A clear message strengthens our business model and gives us better insight into the direct and indirect results.
For this reason, we have already transposed our business model into a graphical format. You can see all our activities at a glance and it clearly shows the relationship between the financial and non-financial aspects. All material topics are included: our input, the services we provide, our customers, and the results of our efforts. Naturally, more detailed information can be found about these topics in our annual reports.
Online or printed?
Until now, Q-Park has always published its annual reports in printed form and presented these to its stakeholders and other interested parties. On request of stakeholders for a more concise way to gain insight into the results, in 2013 we wrote a summary of the 2012 Responsible Parking report.
As a result of this requirement and the clear need for online information we have decided to only publish online. This method is a more effective and more efficient means to meet the need to offer greater transparency, publish punctually and make information accessible to all parties. Increasingly, people who are interested in our company look online first. Furthermore, they only want to retrieve the information that they consider important. Publication on our website makes this possible. Furthermore, an online platform will enable us to publish interim results quickly. By using a single source system, we can greatly increase the consistency of the data. We can also make the reports shorter and more concise. As from the 2013 financial year, Q-Park will only publish its annual reports online.