Facility
Objective
Enable access to main urban functions in a context of sustainability concerns.
What we want to achieve
It may sound paradoxical that Q-Park wants to prevent its parking facilities from becoming full. However, that is the case. We want to be able to offer motorists the opportunity to find a parking space quickly and easily at all times. If a car park is full, this means lost time and more traffic looking for a place to park. This creates more congestion on the streets and increases emissions of pollutants. In order to steer motorists to a vacant parking space quickly, we want to deploy more and more dynamic information signs. These signs provide information about where parking locations are that actually have vacant spaces. We encourage the use of more sustainable passenger cars by providing charging stations for electric and hybrid vehicles. We also offer reserved spaces for customers participating in car sharing initiatives.
PFs FULL for more than 25 days

139

1 (2012: 137)

312

(2012: 265) PFs with

Parking Route Information System

Electric charging stations

394

1 (2012: 465)
What we have achieved in 2013
Access to parking facilities
Unfortunately, the number of parking facilities that were full on more than 25 days in a year, increased from 137 to 139. On the other hand, the number of days that this occurred decreased from 10,114 to 8,885. We are investigating the extent to which the pricing policy has an influence here. We are running one trial in Maastricht, where we are attempting to balance supply and demand through price. The price for parking in the city centre, at the Vrijthof, is higher than the facilities in the outskirts of the city. We have prepared this trial in 2013, and in 2014 we will evaluate per quarter as to whether this pricing policy is having the desired effect.
Reducing traffic cruising for a place to park
In 2013, we initiated an international strategic project to link static and dynamic information from our parking facilities to our own websites and those of our partners, to navigation systems and to Parking Route Information Systems (PRIS). The project aims to reduce the amount of traffic cruising for a place to park, to enable reservations and orders to be placed and to offer customers the opportunity to find the information they need online. Synonymous with getting off to a flying start, the project is called 'PEGASUS'. The Pegasus project will help us to feed a greater number of dynamic information signs with up-to-date information about vacant parking spaces. This project will be developed further in 2014 so we can achieve our target by 2017.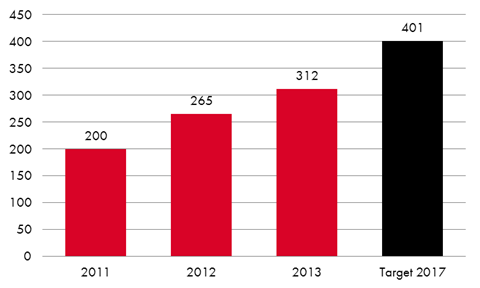 Facilitating passenger cars with enhanced environmental performance
The number of charging stations as well as the number of parking spaces reserved for car sharing initiatives (such as Smart2Go) decreased in 2013. It concerns us that these results are disappointing, in light of our target. We suspect that the disappointing results are due to the poor economy, which makes it more difficult to continue or take this type of initiative.
Numbers in red indicate a negative trend.