Economy
Objective
Reduce the gap between the cost of parking to society and the costs that users pay.
What we want to achieve
Q-Park is in favour of fair parking tariffs which contribute to the quality of life in urban areas. It is in the interest of municipalities as well as Q-Park to tune parking tariffs for different facilities and distances, such as parking on the street or in car parks, and in the city centre or at the outskirts of the city. By engaging municipalities in dialogue on this matter, we want to use our expertise to make a contribution to the sustainability of cities. We offer a parking tariff training course to help officials understand this complicated issue. Our recommendations are designed to establish a differentiated pricing policy which will influence motorists' behaviour. We actively seek collaboration with municipalities to implement a Total City Concept for parking.
Target cities with Total City Concept

46

(2012: 26)

428

(2012: 404) PFs with differentiated pricing strategy
Employees trained in pricing strategy

180

1 (2012: 310)
What we have accomplished in 2013
Parking tariffs with a sustainability perspective
Municipalities have to economise and so they see parking revenues as an important source of income. In economically difficult times, sustainability seems to lose out. This is reflected in the number of parking facilities that operate a differentiated pricing strategy. This number rose in 2013 to 428 (2012: 404), but is still below the level of 2011 (434).
Q-Park continues to make a case for the view that if demand is high, the price should rise. The newly appointed Corporate Manager Products & Pricing will support the countries in publicising this vision. For this purpose, we have developed supportive materials designed to help expand parking tariff policy knowledge and expertise. That attention for this issue is waning and is also reflected in the decreasing numbers attending the parking tariff training course in 2013. The new manager's contribution will help ensure that we do achieve our targets.
Number of cities with a Total City Concept
The number of cities with a Total City Concept is already above the target. Municipalities with a Total City Concept want to better align the number of parking spaces on the street with those available in purpose-built facilities. On-street spaces, close to the centre are intended for short stay parking. Purpose-built facilities are intended for longer parking. We believe this is a positive development, because on-street parking is the biggest competitor of parking in purpose-built facilities, while the costs of on-street parking are higher. It is therefore important to align these properly.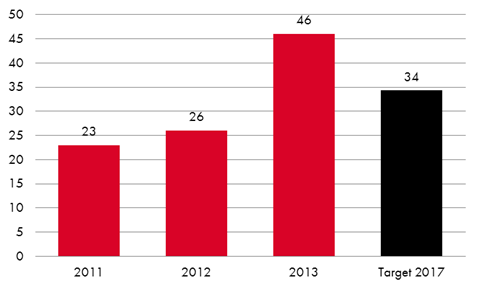 Numbers in red indicate a negative trend.