Mobility
Objective
Support sustainable mobility that meets society's economic, social and environmental needs.
What we want to achieve
Q-Park wants to play a role in people's mobility options. We offer parking facilities for cars and bicycles at public transport nodes. For this we seek active cooperation with municipalities. We engage in a dialogue with them about local mobility policy.
We endeavour to raise awareness and influence people's behaviour. We provide online information about the availability of vacant parking spaces and the parking tariff. We do this via our website or the Q-Park app, but also by feeding navigation systems with up-to-date information.
We seek collaboration with parties who offer a debit card, such as the Dutch railways with its Business Card, where parking is part of the product offering.
101,616

(2012: 91,161)

Parking spaces at public transport nodes
PFs with dynamic information

179

(2012: 150)
PFs with information about mobility options and alternative locations

191

(2012: 151)
What we have achieved in 2013
Integration of transport facilities
Our target was to realise 100,000 parking spaces within 300 metres of public transport nodes, stations or in the vicinity of bicycle parking by 2015. We have therefore amply achieved our aim to offer more opportunities to switch to another means of transport.
We also had the intention to enter into discussions regarding sustainable mobility plans in more than half of our target cities by 2015. We are well on track. We are working together with 46 municipalities to improve the quality of life (2012: 42).
Customer research
From our biennial customer research it transpires that more and more people understand the importance of paid parking. In 2011, 86% of the respondents indicated this. In 2013 this increased to 94%. The attitude towards paid parking is virtually unchanged in the past two years. 37% of customers surveyed welcome this. In 2011 this was 38%.
Dynamic information about paid parking
We now provide up-to-date information about vacant parking spaces and parking tariffs for 179 Q-Park facilities (2012: 150). In addition, in an increasing number of facilities it is possible to reserve a parking space online and pay for it in advance. If this trend continues, we will meet the target for 2017.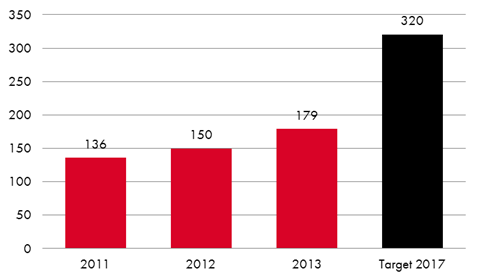 Unfortunately, making this kind of up-to-date information available to navigation systems is not progressing as quickly as we would like. This is due to the complexity of retrieving the real-time data and linking this to external systems. An alternative would be to provide static information, supplemented with occupancy rates. In 2013 we commenced work on a large-scale data warehouse project. In this we are organising data collection at a central level for all countries. This makes it easier to exchange data with third parties. This project will be completed in 2014 so that we can achieve our target for this specific topic.
The provision of information about alternative mobility options and/or alternative parking locations is increasing steadily, but not quickly enough to achieve our ambitious target for 2017.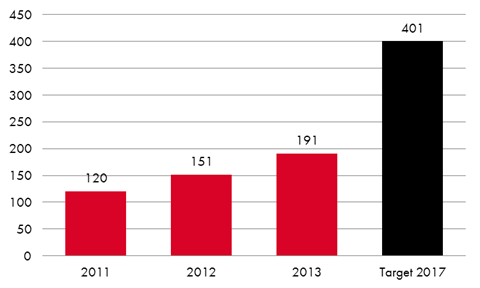 Integration of third-party payment systems
The integration of parking services with private label debit cards offered by companies, such as the Dutch public transport chip card, is not progressing as expected. We were only able to make a few combinations, fewer than in 2012. This disappointing result is due to the large variety of payment cards and providers. Developments in this area are very rapid and so complex that we ask ourselves whether the investments required on our part outweigh the benefits to society. We are therefore considering adjusting this performance indicator in 2014.